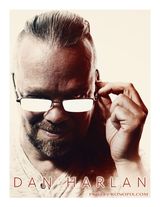 July 16 – 2 p.m. – Lecture
July 16 – 7:30 p.m. – Show

World Famous for his Unique Magical Creations and performing Every Trick in the Book from The Complete Tarbell Course in Magic, Dan Harlan travels the globe performing and teaching incredible magic. One of the most innovative modern magicians, Harlan's cutting-edge miracles are coveted by discerning connoisseurs of fine magic done well. Harlan is also among a select group of magicians who have fooled Penn & Teller. Dan Harlan created Stash, Vortex, SpeakEasy, The Awakening, Card-Toon, Hover-Card, Crazy-8, Color-Mixer, Hold It Buster, Red Rover, Royal Oil, Switchblade, etc. His incredible routines include Cheez Wiz, The World's Saddest Trick, Starcle, Tight Rope, Burnt to the Core… and many more. Harlan has consulted for top professionals including: Kevin James, Jeff McBride, Keith Barry, David Copperfield, etc. Performing, writing, teaching, consulting, creating and lecturing, Harlan does it all. Harlan's lecture brings your magic back to life with simple, yet powerful techniques. Learn how CREATIVITY makes better magic. Realize how PREPARATION leads to stronger performances. Discover how RELEVANCE forms an emotional connection. These vital principles will be illustrated and explained through Harlan's original creations. As you know, Harlan has created and performed more original magic than any other magician ever, so his lecture is filled with an exciting assortment of his greatest hits, plus an amazing array of brand-new material. You don't want to miss this!


SarahElla Phant is a world-renowned mnemonist (memory expert) whose eclectic talents require an assortment of titles… performer, author, artist, speaker, teacher, and more. SarahElla enjoys performing feats of memory involving the first 500 digits of pi, multiple shuffled and memorized decks of cards, and long lists of randomly called-out objects. She first achieved worldwide recognition as co-creator of The Memory Arts Series and independently created the highly-acclaimed graphic e-book series "3 Fundamentals of Mnemonics." SarahElla also creates intricate Mnemonic Fine Art teaching a variety of topics.

Web:
Together, Dan Harlan and SarahElla Phant are the co-founders of The Mystic Tower, dedicated to all things magical, mystical, and memorable. www.themystictower.com