Tricky D. Bunn
T.J. Shimeld, Illustrated by Jennifer A. Shimeld
32 pages, illustrations $7.95 softcover (9 x 6) ISBN 978-0-615-63505-9-7 (2012)
Tricky D. Bunn is a touching story of the friendship, magic, and love between a child and a rabbit with a disability. Children will see each other and themselves through loving eyes, and learn not to judge a book by its cover.
Magician-performer T.J. Shimeld lives in Morganton, North Carolina
The Four-foot GIANT and the Vanishing Wheelchair
T.J. Shimeld
Forewords by Ricky D. Boone and Loretta Faircloth
251 pages, photos $15.95 softcover (5.5 x 8.5) ISBN 978-0-692-01252-9 (2010)
"If you like good stories; if you are somebody that loves going to the movies; if you are someone that loves those Forest Gump-type movies; if you are somebody that just appreciates a good story from beginning to middle and not yet to the end, then you will appreciate this book only because of Ricky Boone. He is a regional motion picture himself. You can't have a better subject than Ricky Boone." -Leighton Grant, Nine-time Emmy winning News Photographer, WLOS ABC 13
From day one, Ricky Boone's doctors predicted his death from a rare bone disorder, Morgani's Syndrome. If he survived birth, he would never make it beyond four years old. He is now over fifty. Through the years he has escaped a rare pneumonia which kills people with two healthy lungs, brain surgery with a fifty-percent survival rate and lived through a heart attack from a rare virus. When left to die in the hospital a voice spoke to him, "If you are too tired, I will bring you home. If you are willing to fight, I promise you, it is not over." Hours later he was still alive, though doctors said he would never leave his bed. A week later he was up, yet the doctors knew he could never perform. That was over ten years ago and he has performed more shows since than ever before, appearing on all three major television networks and winning numerous awards and accolades from the magic community. A documentary news broadcast of his life won two Emmy awards for best feature and best story in the Southeast region. "If it weren't for magic, I wouldn't exist," Ricky smiles.
Written in historical narrative from personal interviews with Ricky and those he has inspired, his story shows how anything is possible if one is willing to strive. Everyone has the power to be a giant just as Ricky has become "The Four-foot Giant."
T.J. Shimeld lives in Morganton, North Carolina and is founder of The Vanishing Wheelchair, Inc., a non-profit organization.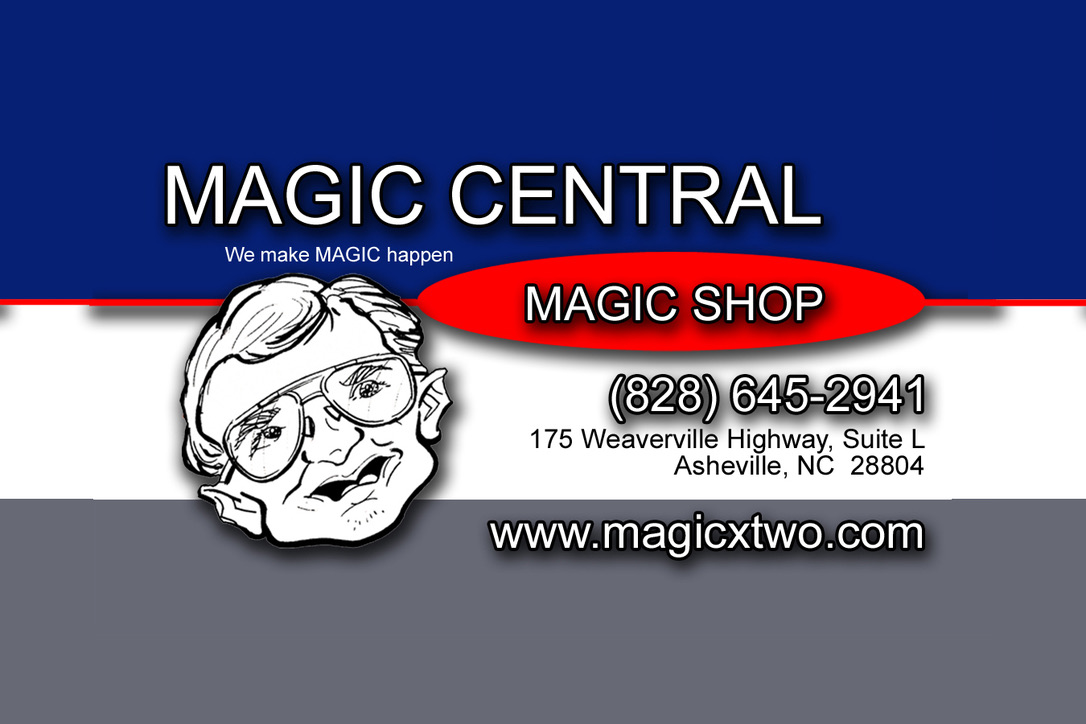 The exclusive magic tricks below are from Magic Central of Asheville, North Carolina. The magic shop will donate $10.00 of every item sold here to The Vanishing Wheelchair, Inc.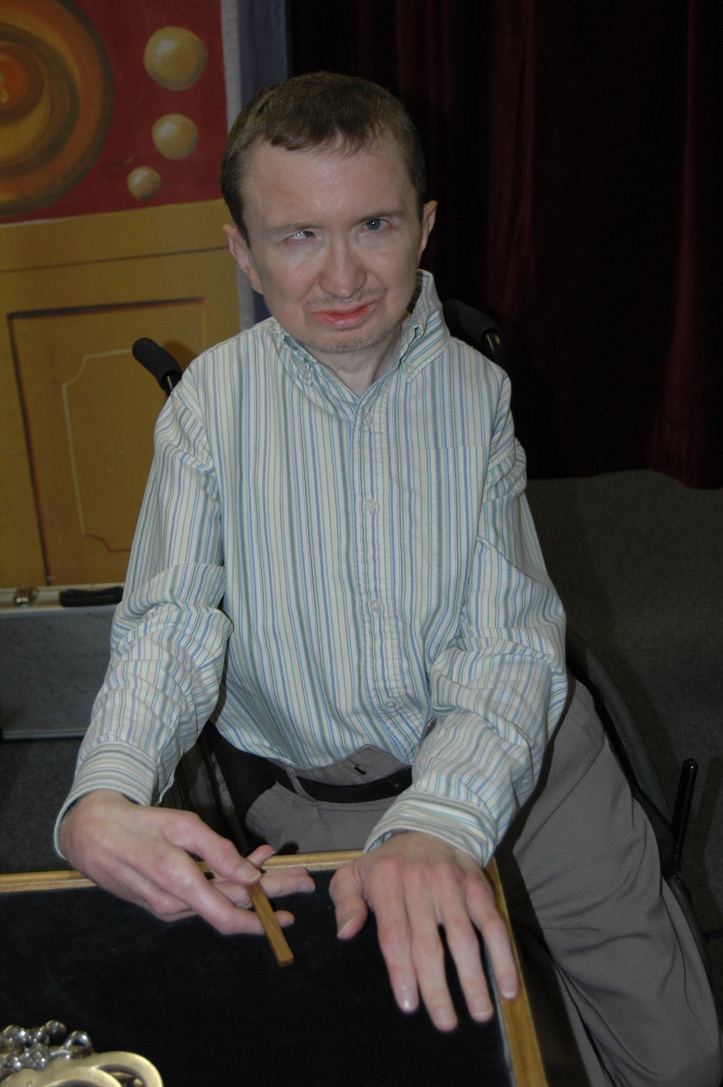 EASY AS 1, 2, 3!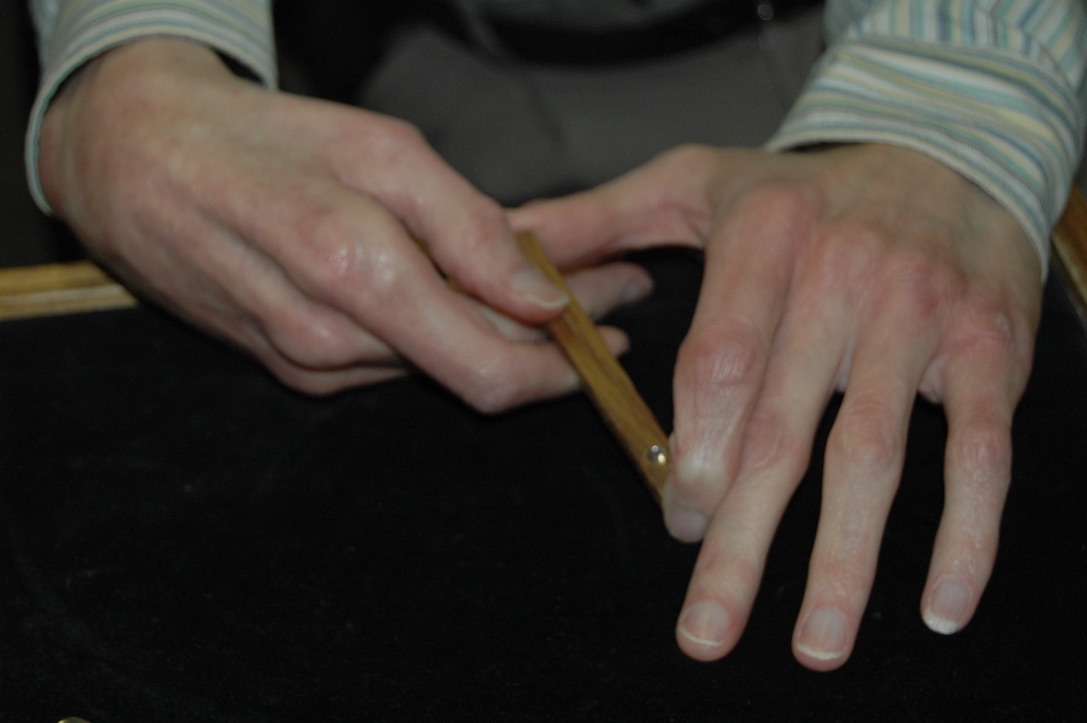 Effect: You show a stick with nothing on both sides. You push the stick through your hand and show that one stone has appeared on both sides. Then rotate the stick and magically another stone appears on the other end, on both sides. Run the stick through your hand once more and show that another stone has appeared in the middle on both sides.
$40.00